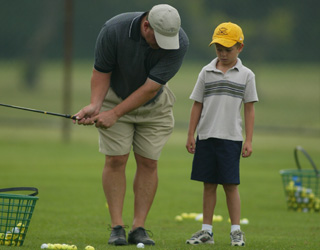 Larters at St. Andrews is committed to growing the game of golf for the next generation. We offer very affordable junior memberships as well as our popular Jr/Jr Golf Academy, making sure to cover all ages of player.  2022 saw the arrival of PGA of Canada Head Professional, Geoff Kehler.  2023 saw the arrival of PGA of Canada Assistant Professional, Devon Schade.  2024 will see Geoff and Devon in new roles at Larters!  Geoff will be the Director of Golf & General Manager, Devon will be the Head Professional.
Larters is proud to support the Golf Canada Junior Golf Programs.
For more information on Golf Canada Programs for Juniors please visit their website by clicking here!
Larters at St. Andrews G & CC – 2024 Jr/Jr Golf Academy
The Jr/Jr Golf Academy is a great way to introduce the next generation of Tiger Woods, Dustin Johnson, or Brooke Henderson's to the game of golf. Juniors will learn to enjoy golf in a fun and positive environment where all aspects of the game are covered including – learning the full golf swing, short game and golf etiquette!   Click HERE to continue to our online store to register.
Larters at St. Andrews G & CC – 2024 Junior Membership
A Junior Golf Membership offers a tremendous opportunity for young players to continue enjoying this great game and to further their skills by playing the game as much as possible. At Larters we offer a very affordable Junior Membership package that comes with very little restrictions. Included is the opportunity for juniors to learn from PGA Professionals and increase their skills even more! Please click on Membership-Junior 2024  to download the  'Membership' application form.
ALL JUNIOR MEMBERSHIP APPLICATIONS CAN BE COMPLETED "ON-LINE" BY CLICKING HERE!