Larters at St. Andrews Golf & Country Club boasts one of the best "country club" restaurants available to the public in the Winnipeg area! This inviting restaurant overlooks our 18 hole golf course and gives you beautiful site lines of the Red River, all located along historic River Road in St. Andrews. This newly renovated restaurant & sports bar with cozy fireplace, courtesy WIFI, stand-up bar and our large 4K televisions to watch your favorite sporting events can offer seating of up to 120 guests. With our expanded outdoor patio overseeing the historic Red River and our lush golf course and with Chef Thomas offering a variety of delicious menu options and generous portions…… it is guaranteed that you will go home satisfied.
New Restaurant and Patio…..NOW OPEN!!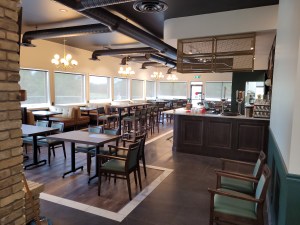 **Inside dining restricted at this time to 25% capacity and 'household' or 'double vaccinations' is required!
**Outside dining (Patio) is restricted to 50% capacity, and mixed households are allowed!
During this time of COVID-19 restrictions, Parry's at Larters will continue with 'take-out' service along with limited 'dine-in' service.   At this time, dine-in is limited to 'households'  or 'double dose' certification.
Want to see our new menu? (see below) or click BREAKFAST menu 2021 or MAIN menu 2021 to see menu in a pdf!
For those of you that have supported us through our 'take-out' service, THANK-YOU!!!   During these difficult times, it remains important to listen to our Health Authority in saying, "get your vaccinations, keep your contact list small, stay at home if you can, and always wear a mask if you must go out….." We will get through this!!!
Make sure to 'download' our "take-out app" to your phone or tablet for easy access!  (use QR code below to download app)