Golf lessons start with sound fundamentals. These are the building block to achieving a good golf swing and having more fun on the golf course. Our team of professional golf professionals have provided golf lessons to people of all ages and skill levels. No matter what you are looking to get out of your game, the golf lessons provided by our golf professionals can help.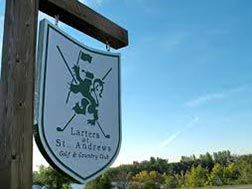 Our Team:
Peter Ewert – Director of Golf, PGA of Canada (Please contact for rates)
Geoff Kehler – Head Professional, PGA of Canada & Certified Mind-Factor Coach. Click Here to View Geoff Kehler Lesson Rates.
Devon Schade – Assistant Professional, PGA of Canada
Larters also offers golf lessons through the winter months, "Larters Winter Golf School". This school runs through the months of January – March and offers a unique experience in learning by using high speed video and FlightScope ball tracking data…..learning has never been easier and more fun! The Winter Golf School will be returning for the 2022/2023 winter season. Please click the WINTER GOLF tab for information.