The Pro Shop is the center of all activity here at Larters. Our friendly and knowledgeable staff are always willing to lend a hand to make your experience at Larters a memorable one. From a sleeve of golf balls to a full set of custom fit golf clubs, Larters has everything you need to look and play your best.
TaylorMade, Nike, Titleist, and Callaway are just a few brands that you will find in our Golf Shop. We have plenty of demo clubs in our shop so you can "try before you buy." Our PGA of Canada Professional staff are certified club-fitting professionals, so you can be sure that the set of clubs you purchase from us will be what's best for your game.
Peter Ewert – Director of Golf Operations
The golf industry is forever changing, keeping up with the trends and anticipating which moves to make next are all in a days work. Over the past 32 years, I have experienced all aspects of this great game and business. At Larters, we live these experiences and deliver the best experience to all our customers."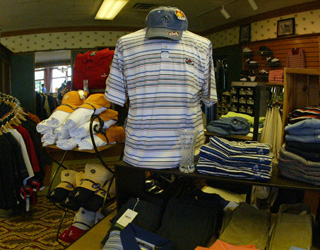 Specials
The Pro Shop always has a good selection equipment…..don't wait, come down and be personally fitted to a set of clubs, driver, or putter…..it's just that easy! Each year, all remaining stock from the previous year is priced to clear…..clothing 50% off, shoes up to 50% off, Golf Bags 25% off and so much more!